Services
Home Inspections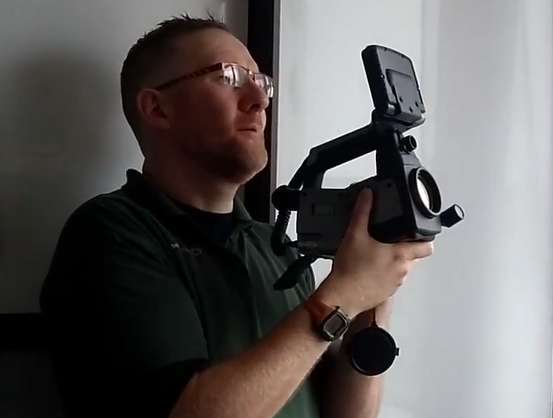 Infrared Camera inspection by Snughome home inspectors is a powerful and non-invasive means of monitoring and diagnosing the condition of your home - or your prospective home.
Inspection by one of our trained Infrared Thermographers can help prevent costly mistakes in buying property with hidden problems.
A Thermal Imaging Survey quickly identifies problem areas in a property that can't be seen by the naked eye and eliminates older, more costly inspection techniques that require lots of labour and destructive probing.
---
---
Save Energy
Used in conjunction with a Blower Door Test, an Infrared survey can pinpoint any air leaks in your home, which can then be sealed easily with appropriate measures; a highly effective method of increasing energy efficiency in your home.
With the rising cost of energy, many people are employing home inspectors to carry out a home energy audit to maximize the energy efficiency of their homes, as well as highlighting potential problem areas.
Snughome's Professional home inspectors and energy auditors use leading-edge infrared technology to perform energy auditing of homes to improve energy efficiency, thus leading to welcome savings on energy costs.
---
The Home Inspection Procedure
Are you thinking of expensive window replacements? insulation? At Snughome, we help you identify exactly where and why you may be losing heat.
Upon arrival, our team will go through any existing concerns you may have. We then temporarily seal all designed ventilation openings to make it as airtight as possible.
We then create a vacuum within your home.
That's when the magic happens. Using our cutting edge thermal imaging cameras, we scan every area from windows to walls, doors to floors, every sq millimetre of your home.
Once we are finished, we sit down with you and go through each image, providing you with valuable insights into where problem areas occur.
We outline proposed solutions and send you a copy of our detailed report, along with a priority list of what improvements will give you the most value for money when it comes to preventing heat loss.
Our priority is customer satisfaction and with over 180 5* Google reviews you can be sure you're in good hands
Upon arrival on site, we ask the homeowner to take us on a guided tour of the property, enlightening us to areas of particular concern they may have, i.e. places prone to draughts, cold rooms, and any areas with difficulties keeping warm.


We will seal all designed/natural ventilation openings such as cooker hoods, vents, extractor fans, chimneys etc. to make the house as airtight as possible for the duration of the inspection.


We then install our air tightness testing rig in one of the external doors. This creates a vacuum within the house, sucking cold air from outside inside. Effectively it's replicating a very strong wind hitting off the house from every angle. The infrared camera can then pinpoint the exact position of any heat loss problems.
While this process is ongoing, we will then scan every door, wall, window, floor, ceiling, and every part of the house with a high-end Thermal Imaging camera, anywhere we find any problems or anomalies we will take both a thermal image and a visual image.
Upon completion of the survey, we will then sit down with you the homeowner to discuss every image, problems identified, and proposed solutions. We will also furnish a copy of all Images in digital format to the homeowner. We will follow up with a more detailed email covering the discussions we have had on the day and most importantly the priorities to take in the house.
We normally arrive on site early morning (7am), the survey is generally non-disruptive and house residents can carry on with normal activities. Survey can take approx. 3-5 hours depending on the size of the house.